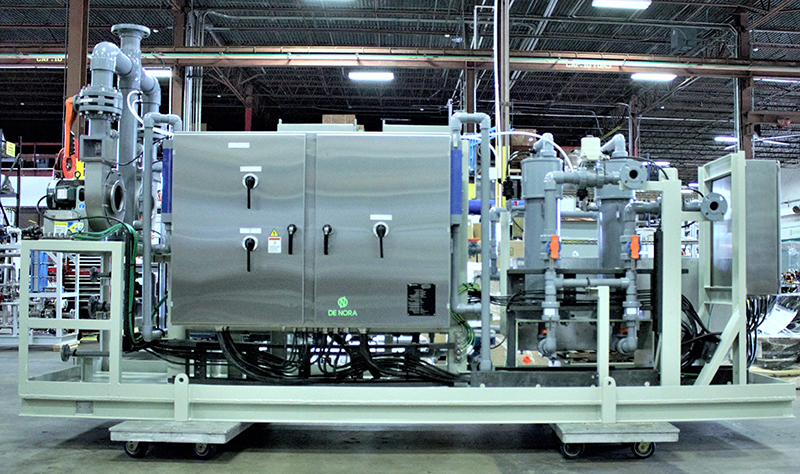 The SANILEC® TRP system introduces self-cleaning cell technology to the offshore oil and gas market.
Sugar Land, TX – June 10 2021 — De Nora announces the launch of the SANILEC® TRP low-maintenance seawater electrochlorination (SWEC) system for marine biofouling prevention in offshore oil and gas and coastal applications. Powered by a new self-cleaning cell technology, the SANILEC TRP system improves safety and efficiency while minimizing operating expenses.
Marine biofouling, the accumulation of detrimental biological matter on the surface of submerged objects and in pipes, is an age-old problem. The damaging impacts of marine biofouling, including environmental and economic consequences, are of particular concern for offshore production facilities. Marine growth can reduce a firewater or cooling system's efficiency, leading to equipment damage, compromised safety, and unexpected maintenance costs.
SWEC systems use a simple electrolytic process, combining two standard consumables (seawater and electricity) to safely generate a critical hypochlorite solution. Like other similar technologies, prior De Nora electrodes have required chemical cleaning to maintain and extend their service life. The new patented self-cleaning cell technology in the SANILEC TRP unit eliminates the need to purchase, store, and handle hazardous chemicals for system maintenance.
"We see a focus on safety and OPEX on oil and gas production facilities," says TJ Westerhaus, Business Development Director - EC of De Nora Water Technologies, "The new self-cleaning cell technology, which requires no acid washing, is driving towards a goal of health, safety, and OPEX advantages."
As the world leader for SWEC systems for more than 40 years, De Nora has installed over 400 systems in 60 countries, accounting for more than 65% percent of the world capacity. With a tradition of 100 years of electrochemistry experience and anodic coating development, De Nora designed the new SANILEC TRP electrochlorinator with the first self-cleaning cell using tubular reverse polarity for the offshore oil and gas market.
The SANILEC TRP system offers an opportunity to minimize operation and maintenance requirements for new customers. This new system is also available as an upgrade for customers who currently use a De Nora SANILEC or a competitor's SWEC system.
"De Nora is committed to supporting the offshore oil and gas industry with intelligent solutions," notes Westerhaus. "The SANILEC TRP unit offers clear, practical advantages, including no use of cleaning chemicals, no disposal of neutralized acid, and ultimately fewer maintenance hours."
To learn more about the SANILEC TRP seawater electrochlorination system, visit https://info.denora.com/sanilec-trp.
About De Nora
De Nora is a global provider of sustainable technologies and a partner of choice for industrial electrochemical processes and water and wastewater treatment solutions since 1923. Driven by a philosophy of continual improvement, De Nora delivers highly innovative electrodes, electrochemical systems, advanced filtration, and sanitation technologies to solve the most challenging applications for public health, municipal, marine, industrial water/wastewater treatment needs. Today, De Nora is committed to developing unconventional solutions to address the Energy Transition toward decarbonization, the hydrogen economy, ensuring clean water for all. More than 1,600 people provide the energy and expertise to fuel this exciting journey.