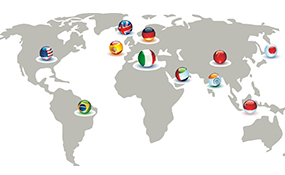 Structure
De Nora is organized into three businesses aligned to the needs of our customers with legal entities, offices, laboratories, production facilities, and service centers strategically located around the world:
Electrode technologies - the historical core business of De Nora
Water technologies - the natural extension of electrochemical solutions
Hydrogen technologies - the future of electrochemical business
Industrie De Nora S.p.A., the original company founded in 1923 by Oronzio De Nora, is the holding company and headquarters of the De Nora Group, which establishes, supports, and coordinates the strategic guidelines through its Corporate Functions.
Corporate Functions
De Nora Corporate functions define the global strategy and objectives of all business lines, supporting the implementation and management of local activities in all companies around the world. The headquarters is responsible for managing business growth and driving continuous improvement, by communicating and implementing best practices within all departments: Sales and Marketing, R&D, Manufacturing, Technical Support, Global Procurement, and Supply Chain.